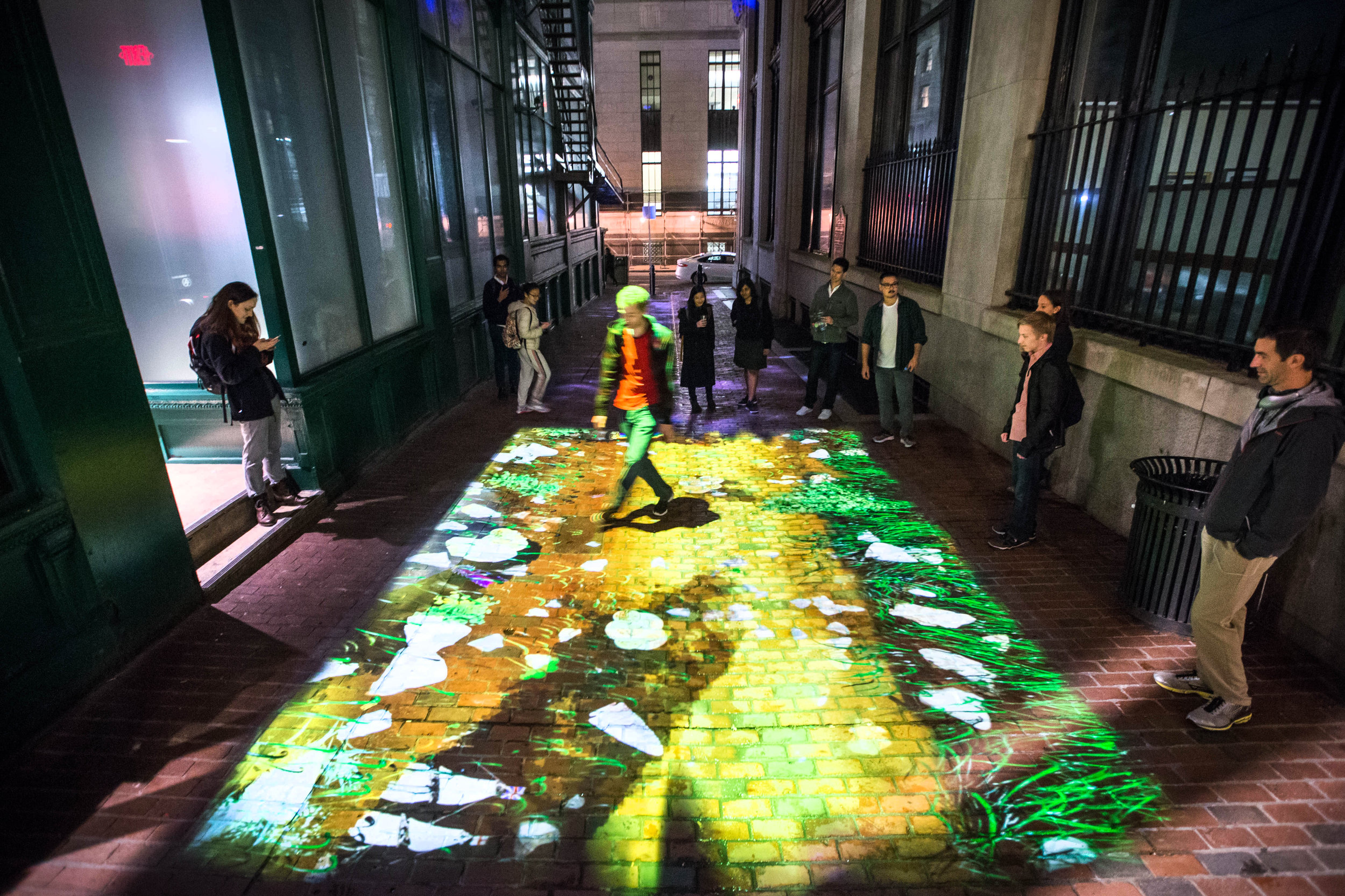 Wellspring Fords
Boston Bit-A-Magic
Boston's Spring Lane is transformed into Wellspring Fords, a communal watering hole that encompasses the days of Shamut peninsula before the Pilgrims to the present day. Communities form around these waters sources and bring all different walks of life together. With our interactive projection, WellSpring Fords, we hope to engage the present day passers-by and inspire them to pause and interact with the installation and each other. For Illuminus, Wellspring Fords will be awash with static blue and green overlapping lights, filling the entire length of the alley with the light of the stream. The interactive component allows participants to walk through the projected riverbed and reveal hidden features. Waves swell and shrink, revealing tidbits of a long history of a city stream excavated one participant at a time.
ABOUT THE ARTISTS
Cindy Sherman Bishop
Cindy is an interactive creative artist currently developing open source software tools at the MIT Media Lab. She has created many museum and gallery interactive installations, including The Way You Move that featured at Illuminus 2014, PastPortInteractive at The American Repertory Theatre in 2015, and Haven at the Tribeca Film Festival 2016.
http://www.cindyshermanbishop.com

Andrew Ringler
Andrew is a creative technologist and educator. His work focuses on tangible interfaces that facilitate creation, collaboration, learning, challenge and flow. Recent public works include Art Screen Workshop 2017, a public interactive screen in Central Square, Cambridge; Step to Hanukkah Lights 2016, an interactive menorah at the Museum of Fine Arts, Boston; Macropavilion 2017, an interactive light pavilion in Panama City, Panama.
www.andrewringler.com

Phillip Gedarovich
Phil is a digital media enthusiast specializing in animation and playful experiences. He currently works as a motion graphics designer for Ernst and Young, and has taught design courses at various universities in Massachusetts and Rhode Island. His
interactive multi-faceted play-based piece "TriMe" has been featured in several galleries and continues to tour. He has also curated the Dynamic Media Institute's showcase of interactive prototypes known as Fresh Media at the CyberArts Gallery in Jamaica Plain from 2014-2016.
@Boston_BAM
#wellspringfords
#ILLUMINUSboston
#lightupthenight